Sacramento City, Sacramento Metro, Folsom, CSD, and many Bay Area fire districts are now 48-96.  We all had a one year trail period and no one has voted to go back...no one...trail periods voted in around 75% and on the final vote, 92% chose to keep the 48-96 work schedule!

- Tom Neville, Local 522
Pecos County EMS is a low volume service. We staff 4-24 hour units. Two units are staffed at least MICU and two units staffed at least ALS.  This schedule allows my wife and I to operate our own private service at a much lower cost than anticipated and we have more time together than previously due to randomized schedule prior and this schedule allows all of our staff equal amounts of scheduled OT as well as equal access to unscheduled OT.
Cost Savings and Benefits to Department/City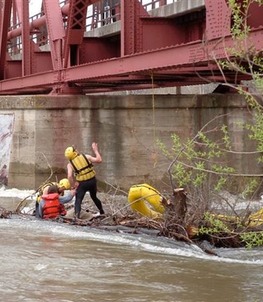 It could be deduced that the money that the department spends on laundry services would be reduced.  The average firefighter working a 48-hour shift would most likely use the same sheets for the second shift, as well as periodic reuse of station uniform and gym clothes.
Since grocery shopping could be accomplished all in one day, it would mean only half the trips to the store (approximately 180 less trips @ 2 miles each way =720 less miles a year).
Air quality standards would be improved as we reduce the amount of commuting done by Boise Firefighters by half.  This documented reduction in trips and emissions will be embraced by your city's pollution control division creating another ally for the work schedule.
This schedule would cause no extra costs to the department, hours per week and F.L.S.A . would still be unchanged.
Several studies have shown reduced use of sick leave.
The holdover portion of the overtime budget would most likely be cut in half.  Having only half as many changes per year would be the reason for this savings.
Benefits to the Manning Station
The manning station's job would be significantly reduced due to the reduced movement of personnel after the first 24-hour shift.  It stands to reason that the previous day's lineup would stay much intact compared to our current system, in which two days pass between each shift and there are many firefighters' status changes.
Other Benefits
Swing drivers would have two days in a row at the same station bringing about improved efficiency and familiarization with the engine, district and crew.
48-96 would cut commuting (driving to work) in half.
Everyone would still receive the same pay and the same chance for overtime.
Reoccurring daily work will be cut down which provides more time for other projects.  Things like logging on to the computer, going to the store for food and taking turnouts out to the rig will be done only once per two shifts.
Less information will be lost since we will be having only half the number of shift changes each month.
We will have a much better opportunity to interact with the other shifts outside of work.  Currently if an A-shifter and a B-shifter want to go out fishing, one person will have just gotten off work, and one will have to be going back in the morning.  This makes it impossible to have either an early morning or late evening out.  The new schedule would allow each person to be in the position of being fresh since neither has just gotten off work, or will be going to work the next day.  Furthermore, if an A-shifter and C-shifter want to play hockey and go out afterwards, they could do it on B-shift and neither person would have to go to work the next day.  The next day would be the B-shifter's 2nd day of work.
In the future the department may require all medical paperwork be completed by the end of the shift, and a captain would be allowed to sleep after any call that occurred on his first night's shift, and could finish it the next day.
Any shift coming on duty could clean their station to their level of satisfaction and be able to enjoy it for 2 days.
If a company wished to, they could accomplish most of their "standard duties" (i.e. floors, inventory, chassis, refrigerators) on the first day leaving the second day to work on any special projects.
If you have friends or family that work normal schedules and they have always asked for you to get together with them for a normal weekend, now you can do so.  Two out of six weekends you will have Friday, Saturday and Sunday off.  Now you can plan to spend that weekend in Sun Valley or on a camping trip with the neighbors, not having to worry about a trade or attempting to get vacation.  These can be planned as far in advance as you like because they are your guaranteed days off.
Even the most junior hose man would be able to have a vacation in the summer without the use of vacation or trading.  If a junior member of the department wants to have a cabin in the mountains he can, and he will still be able to visit it on a regular basis when the vacation calendar is tied up.
If one needs to trade a 48-hour shift, no one would be forced into a 96.  It would only cause someone to work one day in the middle of their 4 days off.  For example, when trading 48 hours, have a person from one shift work the first half, and a person from the other shift work the second half.
Are you a hunter?  Would you like to be able to go up for 4-day increments all season long ?  This will allow it.  One could make legitimate attempts at big game, birds or fish and not have to do 3-5 trades or use a bunch of vacation.
Delays in arriving to work would be cut in half.  Only commuting half as many times, would lead to half as many days getting stuck in the snow or getting caught in traffic.